Testimonials
We are truly blessed to have the most wonderful customers in the entire world! We can't speak highly enough about each of you! You inspire us and motivate, we learn, grow, and getting stronger. Thank you for your wonderful reviews! We love you so much!
"Very happy with purchase! My towel looks great, impressed with a quality. Very quick delivery and easy communication. Will be buying again. Thank you!" Lilly, VIC
"Really love my rustic table runner. Arrived very quick. Seller is very helpful and polite. Highly recommended. Thank you!" Lauren Winter, VIC
"It is absolutely beautiful! The quality of the fabric and sewing is way beyond my expectations. Sleeping under it is like being wrapping in soft waves." Colleen from NY, US about "Stripes and Buttons" duvet cover.
"Gorgeous throw - just as described and beautifully presented. Fast efficient shipping too. The seller was quick to give me the information about the throw I needed. Many thanks.", Janet J. from Australia about Luxurious linen throw.
"As a child, I used to wonder what it would be like to sleep in a cloud – now I know. This pure linen duvet is as close as it comes to heaven, I'm sure :) The craftsmanship is exceptional, and the quality of this linen is honest, rustic, yet super soft and deliciously tactile. Timeless bed linen today, which will become a true family heirloom. And, the Antique White linen pillowcase is oh so buttery soft goodness. This linen bedding looks SO good in the bedroom - serene, rustic and truly elegant. Doville is just the sweetest person! She loves the linen she sells and stands by its quality. If you are thinking of buying natural, lovely flax linen that will stand the test of time and last for many years to come - getting better as it ages - you won't be disappointed if you buy from House of Baltic Linen. You'll be so glad you did." Vicki, VIC about Rustic Rough linen duvet cover.
"These pillowcases are olde-world beautiful - as if they came from an eighteenth century manor house, and look so pretty on my bed. The softly textured linen seems to actually polish my skin, as I wake up with a glow in the morning. I can highly recommend these luxurious linens. Prompt postage and excellent attention to detail - thank you Doville :)" Vicki, VIC about Provincial Living linen pillowcases.
"Delighted with the quality and service from this shop. Will buy again!" Janis, VIC about Luxurious linen sheet.
"Gorgeous! I love it. Thank you xx" Ness, US about linen tea towel with lace.
"The feel of this deliciously soft linen is like no other fabric. It is much nicer to sleep with than cotton. It has a beautiful drape that looks so good and just gets even better with every wash. I'm hooked! Always excellent service and very prompt postage - many thanks Doville, I look forward to buying more luxurious linen in the near future ♥" Vicki, VIC about Pure Elegance pillowcase.
"Excellent product, beautifully made, packaged and presented, delighted, thank you so much:)" Wendy about Rustic homespun linen tablerunner.
"This linen bedding is absolutely gorgeous! Customed dyed to your liking...perfection of construction...and linen fabric is wonderful quality. I generously recommend this lovely bedding or any of Dovile's linen items from House of Baltic Linen...timeless and beautiful! Thanks again Dovile for everything." Vanessa from Canada about Vintage Dream linen bedding.
"Simply Gorgeous! Beautiful quality pieces that are skilfully crafted, Thank you so much :)", Gillian from Australia about linen napkins with hemstich.
"I just received this in the mail today and put it right onto my bed, it is even more perfect in person than I could have imagined! And smelt so good as it came wrapped with a lilac flower. I am madly in love with it and can't stop staring at my, now perfect, bed. It even shipped early! Amazing service, everything was great, i HIGHLY recommend this shop!" BK from Canada about Stripes and Buttons linen bedding.
"Soothing, comfortable and deliciously soft. What an experience! It has to be slept on to truly understand how good it feels. I can't recommend House of Baltic Linen highly enough. Beautifully crafted, heirloom quality linen that is an absolute dream to sleep on. Thank you so much Doville :)" Vicki, VIC about Luxurious linen sheet.
"Wonderful, beautiful, soft and warm. I can not tell you how wonderful these are. I was so upset that the snow here prolong me getting this post! How wonderful when I opened up the bag today to find these wonderful soft, beautiful, well made...just the greatest of linens. You make such wonderful things.l Everything about them is so great. And for the price...I feel like I stole them from you! Thank you so so much! And thank you for the cute lavender! I will be back for sure for more!" Barbara, US.
"Doville, thank you so so much. I will never buy anything but LINEN..and YOUR linen is so beautiful. Soft, warm and so well sewn! Thank you for your great communication, help and all the love that went into making these! Thank you so so much. I will be back to order more!" Mark and Barbara, US about Provincial Living bedding, Ivory.
"I worked with the seller to create a custom duvet cover to fit my weirdly sized American duvet. I chose natural linen (I opted out of stonewashing), so that I could observe the softening process myself (Linen naturally softens over many washings). I found the quality of the linen-- the weave and size of the slubs, etc.-- to be good, and certainly very good for the price compared to American sellers. Just a note-- if you also forgo stonewashing, expect the linen to feel pretty rough on arrival; it normally takes several months to soften up. This seller was very accommodating and I'm enjoying my duvet cover!" Heidi, US about Stripes and Buttons duvet cover.
"I really appreciated my transaction with Doville the entire time. She took such great care to respond to all my questions about a couple of the beautiful items she has in her shop. In the end I decided to buy the stonewashed linen tablecloth in "silver light blue." To me, the tablecloth looks light blue (more like pictures 2 and 3). I was delighted because of the overall quality of the soft linen and because the light blue color brightens up our dining room. I also appreciated how Doville made such a concerted effort to help us get our tablecloth to Boston in time for Christmas dinner - thank you!" from Boston, US about stonewashed linen tablecloth.
"This is such a quality duvet. Everything about it is luxury. The weight of the fabric, the softness and the attention to detail. Absolutely worth it! Communication was extraordinary from beginning to end. The packaging with the string tie, card and lavender sachet spoke about the pride of the maker. Thank you!" Kathleen, US about Stripes and Buttons linen bedding.
"I ordered a table cloth, runner, napkins and tea towels . . . I LOVE the quality, luxury, and durability of all of these products. Everything washes like a dream (I didn't iron but I prefer that look), I even had wine come out! Doville, the shop owner, is very helpful and will make sure your order is right and answer questions about product care. I was hesitant to order linen in house with young ones but I do enjoy having different textures so discovering how easy linen is to care for. I would definitely buy from this shop again!" Elizabeth, US
"This was my 2nd order, mostly gifts for Christmas but my husband and I tried the waffle sheet bath towels and pillow cases, we both really enjoy the pillow cases and at some point would probably invest in the sheeting, the linen sleeps comfortably, I like the bath sheet because it truly is thin and a good size he prefers something with a little more weight that is more absorptive, but that is just personal preference, again with this 2nd order the quality is great, even after the wash a few times. Also, if you are gifting the items come packaged very nicely." Elizabeth, US
"Again, these sheets are heaven. I can not imagine where they have been all my life! I am so happy to have found them here in this shop. And Doville is WONDERFUL with helping and just as a person in general. It makes purchasing and knowing you will get the best....so nice! I would tell everyone they need to invest in at least one pair! Thanks!" Barbara, US.
"I'm a linen junkie and very particular. Those napkins are gorgeous. I'll see how they wash, but linen can be finicky anyway. Large and well-made. Highly recommend this seller." Deborah, US about Rustic Rough linen napkins
"I love the cushion cover! The colour and quality of the linen is just beautiful! Thank you so much!", Judy, QLD
"I've now converted to LINEN --- these towels are exceptionally soft, absorbent, and gorgeous!" Cathy, US about pure linen waffle bath towels.
"Doville is amazing! I could not be happier with my purchase. She went above and beyond to make sure I was happy with my purchase. She helped me sort out some confusion with the Postal Service. And, most importantly, my duvet cover and shams are GORGEOUS. I will definitely shop House of Baltic Linen again!" Meredith, TN, US about Pure Elegance duvet cover and pillowcases.
"These are beautiful, as are the blue napkins. They arrived quickly and feel/look fantastic. Recommended! Thank you!" Whitney, US about stonewashed linen napkins.
"Working with Doville to create my custom order has been an amazing experience. Doville was very helpful in answering all of my questions and is honestly one of the kindest, most communicative sellers I have ever had the pleasure of corresponding with. The linens, when they arrived, were beautifully packaged, and sleeping in them has been so wonderful. One of the reasons I've always wanted linens was for their old world quality, and these in particular, definitely have that quality. They are luxurious and soft and durable and so exquisitely made -- something that I know will last a lifetime." Marisa, Alaska, US about Luxurious linen sheets and Provincial Living natural linen pillowcases with linen lace.
"Love this duvet cover! It is beautifully well made and super cozy!" Nichole, Canada about "Stripes and Buttons" duvet cover.
"This towel is surprisingly absorbent. I love the stripes and the little tab to hang it." Nichole, Canada about striped linen bath towel.
"Beautiful, soft..just wonderful. There are not enough words to describe how soft these are. Thank you so much for making them! I love all the things I have purchased!" Barbara, US about "Pure Elegance" pillowcases.
"This custom made tablecloth is just beautiful! Fabulous service and beautiful quality linen! Thank you so much!" Judy, QLD, Australia
"I ordered an oversized linen duvet cover. It was made exactly as I had requested and fit my duvet perfectly. Craftsmanship is amazing. The fabric is perfect. I could not be more pleased with my purchase." Heather, US about Rustic Rough duvet cover.
"Very well-made with high quality linen - of course they look beautiful. My bed looks so inviting. Packed beautifully and arrived quickly. The seller was very responsive whenever I had question or request." Kim, Singapore about Luxurious linen sheets, "Provincial Living" natural linen with lace duvet cover and pillowcases.
"Had this duvet cover special made for me with buttons on three sides. I absolutely love it. So easy to put on my comforter and the sky blue color is perfect." Andrea, US about "Vintage Dream" sky blue duvet cover-custom order.
"Sleeping under this linen duvet cover is a dream. I ordered the more rustic linen so I can use the cover without the down comforter in the summer and I think that is going to work out perfectly. Beautifully made, I am very pleased. Thank you!" Elisabeth, US about Rustic Rough duvet cover in white (Custom order). Elisabeth also featured our duvet cover in her blog http://beebabyblog.com . Thank you Elisabeth!
"What a super product, perfect construction and great friendly customer service! matches the comforter and other pillow slip perfectly! ;) thank you!" Barb, US about "Stripes and Buttons" pillowcases.
"These are more beautiful than the picture! Love!" Kate, US about stonewashed linen napkins, denim blue.
"I was truly amazed at how soft it feels - naturally not as soft as silk, but very, very close. There is a wide, perhaps 2" wide band of silk on three sides. At first that confused me, until I realized you're not going to notice the lace that's actually on the bed itself, so that made sense. It also means you won't get a scratchy neck if you sleep on this pillowcase, so that was a good idea. I love, love these pillowcases. They are elegant and really set the rest of my linen bedding off nicely. The lace is feminine without being girly, if that makes sense. I am very happy with this product and will definitely order from this seller again - probably even order more of this specific product. Thank you very much!" Alexandra, US about "Provincial Living" natural linen pillowcases with linen lace.
"The pillow cases are gorgeous! They look beautiful, are well made and feel lovely to sleep on: I'm absolutely delighted with my purchase, and look forward to ordering again in the future. Highly recommended!" Miranda, US about laced natural pillowcases "Provincial Living"
"I love everything about this bedlinen. The feel, the weight, the look, the colours, the delivery... I am overjoyed at receiving it - so beautifully parceled up and absolutely love sleeping in it. Thank you so so much." Kate H., US about "Provincial Living" ivory bedding.
" Launders/dries beautifully -- perfect soft, casual elegance -- generous sizing and nicely finished" Beverly, Australia NSW, about "Vintage Dream" pillowcases.
"As with the linen sheet, this item is perfect for casual summertime bedding -- generously sized, nicely finished and washed/dried perfectly --" Beverly, NSW about "Pure Elegance" pillowcases;
"The sheet is generously sized, beautifully finished, soft, relaxed and "elegantly casual" -- washed and dried beautifully -- perfect summertime bedding" Beverly, NSW about Luxurious Stonewashed Linen top sheet.
31/8/2014
"Love the texture and colour, ticks all the boxes. Arrived promptly and beautifully packaged with great care. Makes me love Internet shopping. The posted sample also arrived promptly, many thanks", Julie from Melbourne about Rustic Rough mauve pillowcases (sold out)
9/9/2014
"divine is all I can say, totally recommend!", Mel from NSW about Charcoal Rustic Heavy weight bed cover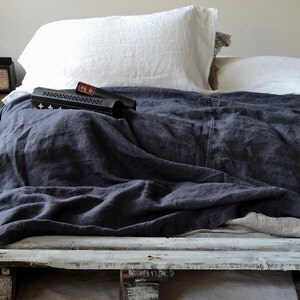 "absolutely gorgeous totally love it, thank you so much!", Mel from NSW about Pure Elegance and Mink Brown(hand dyed) pillowcases.

9/9/2014
"Great quality and beautifully made. Will never go anywhere else. Response and service is fantastic. I will purchase again and again for sure" Catherine from NSW about Charcoal Rustic Heavy weight linen bed cover
9/9/2014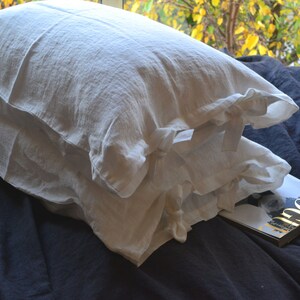 "I simply adore these. . . magnifique, oui, oui. . . so beautiful and sensuous to the touch. An extremely happy customer. . looking forward to treating myself with a duvet. Thanks so much." Cordelia from CA, USA about Stonewashed white pillowcases with ties
Reviewed by Vanessa Gourihi Titiro on May 11, 2015
The blanket is simply beautiful! And the seller extraordinarily professional, which I learned after my New Orleans USPS branch failed to deliver the item and simply returned to sender (in Australia!)... The blanket was promptly resent via more expensive, but more dependable, courier service at no cost to me. Very impressive.
Reviewed by rebeccaburgell on May 5, 2015
Absolutely divine fabric. Impressive service.
Custom order for Dionne
Totally in love with my linen covers. Great quick responses from the shop when I had questions. Linen arrived fast. And it is SO gorgeous. Will definitely reorder from here.
Reviewed by Sharon Schaerer on May 18, 2015
Custom order for Sharon
Thank you soo much!!
Reviewed by J JONES on May 18, 2015
This is hands-down the most GORGEOUS duvet I have ever owned in my life. The quality and craftsmanship is outstanding! I feel like a princess going to bed now. I only wish I could wear it like a dress all day...
Reviewed by haloradio on May 14, 2015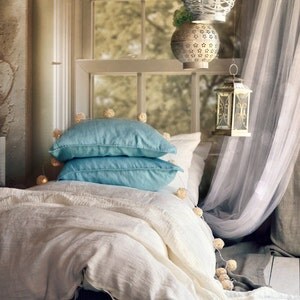 Custom order for Faith
Words cannot express my gratitude! The owner is very generous and accommodating. Set up a custom listing just for me when I expressed what I was looking for, and everything shipped and arrived in good time. My room looks beautiful and my bedding is all high quality. Will definitely be back again. Thank you so much.
Reviewed by iphillips1911 on May 12, 2015
Pair of stonewashed navy ticking pillowcases. Vintage Classic. French vintage inspired bedding
Love it! Very soft and beautiful! Thank you for the high quality product! Made with love.